American Metropolis: The Making of Seventeenth-Century Mexico City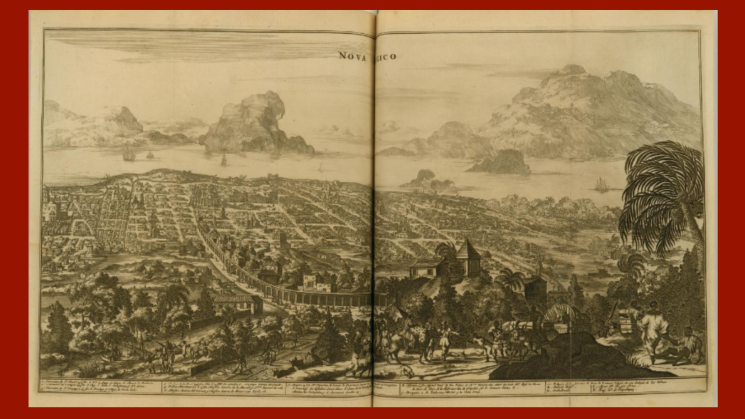 American Metropolis: The Making of Seventeenth-Century Mexico City
A Lecture by Tatiana Seijas
The engraving "Nova Mexico" (Amsterdam, 1671) captures the magnitude, energy, and complexity of America's first colonial metropolis. Visitors described the city's splendid buildings and streets. Officials celebrated its commercial ties to Asia and Europe. Yet few contemporary writers remarked on the everyday life of its residents. Nahua market women, coachmen from Angola, and barbers from Flanders were but some of the essential workers who sustained it. This talk follows the steps of such ordinary people to show how they transformed Mexico City over the course of the seventeenth century.
Tatiana Seijas, Associate Professor at Rutgers University, is currently finishing a book that tells this history. She was a long term fellow at the JCB in 2014-2015.
________________________________________________________________________
About the Maury A. Bromsen Memorial Lecture
Maury Bromsen was a scholar, bibliographer, and antiquarian-bookseller based in the city of Boston. He acquired and sold extraordinary items ranging from Walt Whitman first editions to the manuscript of a memorable John F. Kennedy speech. However, his deepest passion was collecting materials related to Colonial Spanish America, from the times of Columbus to the death of Simón Bolívar in 1830. This passion overlapped with the collecting focus of the JCB on its Latin American side.
Maury Bromsen bequeathed his collection of Bolivariana, a tremendously rich assembly of portraits, engravings, books and manuscripts related to the life and travails of El Libertador Simón Bolívar, to the JCB. When Bromsen passed away in 2005 at the age of 86, he made another major donation to the JCB that included thousands of volumes and an unbelievably generous monetary gift.
The recipient of many honors bestowed by Latin American nations and academic institutions in the United States, Maury Bromsen was the founding editor of Revista Interamericana de Bibliografía in 1951, a journal that he continued to support until it ceased publication in 1998.
He also edited a book of essays about José Toribio Medina, Chilean historian and the most prolific bibliographer Spanish America has ever seen. Titled José Toribio Medina, Humanist of the Americas, it was published in English in 1960 and in Spanish in 1969.