Latin Americana: The Latin Collection at the JCB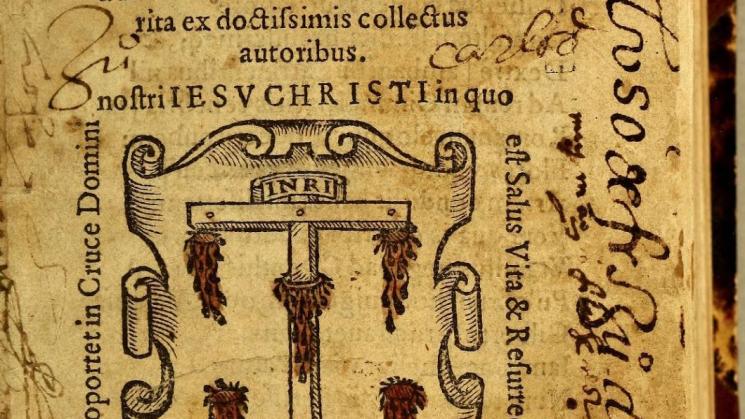 If Spanish came to be imposed or adopted as the lingua franca for the different ethnic groups in Spain's territories, as Portuguese was in Brazil, what was the role of Latin in the Americas? Answers to this question can help account for the large number of Latin books in the JCB, explain the subjects they cover, and why they might be important, irrespective of whether or not people nowadays are able to read them.
The pioneering Musa Americana exhibition, devoted to the many books from the Americas which addressed classical themes, was held at the JCB exactly forty years ago. This event, conceived as a commemoration of that original 1980 display, will address a related field of growing interest, which is far more inclusive: the Library's unparalleled collection of works in Latin. Our collaborative session will involve a guided show-and-tell of some important Latin books and a short talk about the role and status of Latin in the colonial Americas by Professor Andrew Laird, distinguished Professor of Classics and Humanities, and Professor of Hispanic Studies.
Latin Americana: The Latin Collection at the JCB has been organized and will be moderated by Domingo Ledezma, Acting Curator of European Books.
This event will take place on Zoom: https://brown.zoom.us/j/97341179003
Basic References
Beuchot, Mauricio. 1998. The History of Philosophy in Colonial Mexico. Washington, D.C: Catholic University of America Press.
García Icazbalceta, Joaquín, y Agustín Millares Carlo. 1954. Bibliografía mexicana del siglo XVI. Catálogo razonado de libros impresos en México de 1539 a 1600, con biografías de autores y otras ilustraciones, precedido de una noticia acerca de la introducción de la imprenta en México. Nueva edición. Biblioteca Americana. Serie de Literatura Moderna: Historia y Biografía. México: Fondo de cultura económica.
Leonard, Irving A., and Rolena Adorno. 1992. Books of the Brave: Being an Account of Books and of Men in the Spanish Conquest and Settlement of the Sixteenth-Century New World. Berkeley: University of California Press.
Osorio Romero, Ignacio. 1980. Floresta de gramática, poética y retórica en Nueva España (1521-1767). 1a ed. Cuadernos Del Centro de Estudios Clásicos 9. México: Universidad Nacional Autónoma de México.

Articles with online access (restricted to Brown):
Cañizares‐Esguerra, Jorge. 2018. "Envoi: Whose Classical Traditions?" Bulletin of Latin American Research 37 (S1): 196–201. https://doi.org/10.1111/blar.12800.
Laird, Andrew. 2015. "Colonial Spanish America and Brazil." In The Oxford Handbook of Neo-Latin. https://doi.org/10.1093/oxfordhb/9780199948178.013.32.
Maillard Álvarez, Natalia Maillard. 2018. "Early Circulation of Classical Books in New Spain and Peru." Bulletin of Latin American Research 37 (S1): 26–40. https://doi.org/10.1111/blar.12788.