Presentation by Maria Matilde Benzoni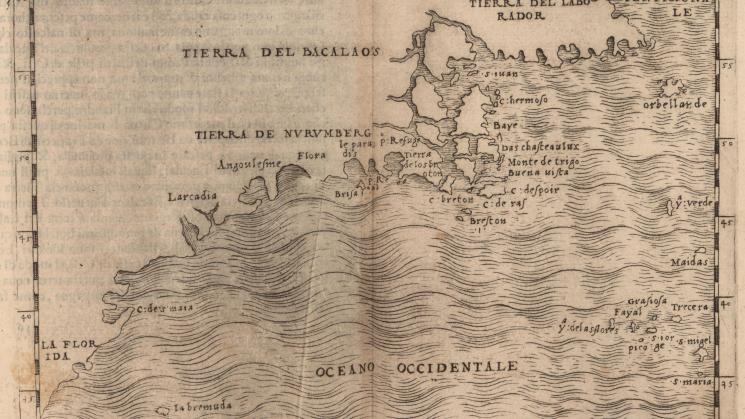 Please join us for a presentation by JCB Fellow Maria Matilde Benzoni (Università degli Studi di Milano, Jane L. Keddy Memorial Fellow).
"Italian Authors and Texts on the New World in Antonello Gerbi's Works
The Rediscovery of an Americanistic Tradition"
At the end of 1960, a conference on the "Early History of the Americas" was held at the John Carter Brown Library. The initiative aimed to foster both a reconsideration of the Library Collection as an expression of Western civilization between the late 15th century-early 19th century as a whole, and the extension of the research perspectives in order to attract scholars of disciplines other than history to the Library.

The results of the initiative were published in 1961. For a reader, sixty years later, the report is extremely interesting. As in a manifesto, it sketches the guidelines of an ambitious, intellectual project with a hemispheric perspective, free of any teleological tendency "à la Bolton", and with an intrinsically cross-cultural profile. As is well known, in the development of such a project, over the following decades, the JCB would become a strategic research center.
The JCB conference report welcomed the Spanish translation (FCE, Mexico, 1960) of La disputa del Nuovo Mondo (Ricciardi, Milan-Naples, 1955) by Antonello Gerbi (1904-1976), an extensive reconstruction of Transatlantic debates, and New World controversies over the centuries.
In my talk I will briefly introduce Gerbi's personal discovery of the Americas during his Peruvian exile (1938-1948), against the backdrop of fascist racial laws and the Second World War, and his classic studies (translated into English as The Dispute of the New World. The History of a Polemic 1750-1900, 1973 and The Nature in the New World from Christopher Columbus to Gonzalo Fernández de Oviedo, 1985). More particularly, I will focus on the specific emphasis given by Gerbi to Italian authors and texts, from Dante to Peter Martyr, from Giovio to Bruno, from Vico to the expelled Spanish American Jesuits, from Carli to Cattaneo…, within his thorough examination of a vast body of printed works on the New World -- a corpus written and published in Europe and the Americas between the 16th and 19th centuries, and circulated and translated into multiple languages.