Presentations by Scott Berthelette and Beatriz Marín-Aguilera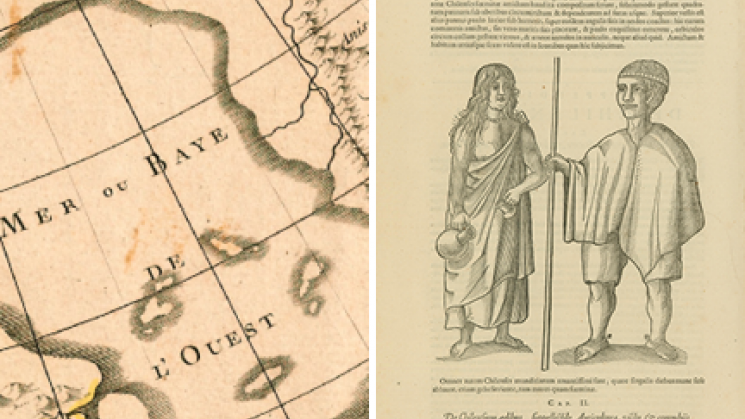 Please join us for presentations by JCB Fellows Scott Berthelette and Beatriz Marín-Aguilera.
Scott Berthelette (University of Saskatchewan, Jane L. Keddy Memorial Fellow) presents "Indigenous Informers, Elusive Empires, and Mismapping Western North America." The sheer existence and immensity of the Rocky Mountains betrayed the maps, mémoires, and theories of French mapmakers, like Guillaume Delisle and Philippe Buache, who depicted the existence of a Northwest Passage, or a Mer de l'Ouest, in the middle latitudes of Western North America. How had the best French geographers and cartographers of the day so erroneously mismapped Western North America? French metropolitan ministers, imperial planners, and royal cartographers relied heavily upon Indigenous knowledge to inform and shape their spatial understanding of North America. Rejecting the historiographical position that the mismapping of Early America was due solely to a shifting combination of linguistic and spatial misunderstandings between European explorers and Native informers, this presentation suggests that some Indigenous peoples in Western North America purposefully mislead, tricked, and duped European newcomers in order to entangle them in local political and commercial networks. This research examines the Assiniboine, a Plains Indigenous people, who between 1688 and 1737 purposefully informed (or rather misinformed) the French at least a dozen times about la Mer de l'Ouest in order to get the French to build a post in their territory.
Beatriz Marín-Aguilera (McDonald Institute for Archaeological Research, University of Cambridge, José Amor y Vázquez Fellow) presents "Bodies in contact: material life in colonial Chile." How did colonial borderlands affect bodies and how did bodies affect borderlands? Southern Chile was one of the most violent yet creative frontiers of the Spanish Empire from the 16th till the 19th centuries. This paper draws attention to the embodiment of frontiers by looking at body adornment among Chilean indigenous communities from an archaeological and historical perspective. Collections of the JCB help us get a better understanding of how the idea of the body shaped and was shaped by the Spanish colonial borderland throughout the period.