Presentations by Selene García and Isabel Povea Moreno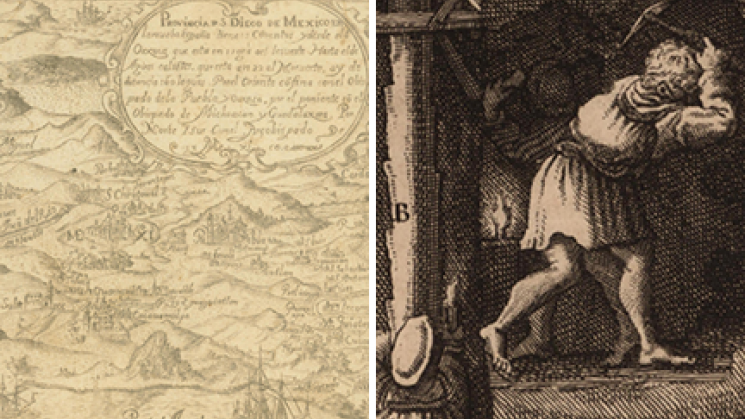 Please join us for presentations by JCB Fellows Selene del Carmen García Jiménez and Isabel M. Povea Moreno.
Selene García (Fundación Alfredo Harp Helú de Oaxaca, Maria Elena Cassiet Fellow) presents "La virgen de la Soledad de Oaxaca: De imagen local a imagen regional, 1702-1728." Poco sabemos del origen "milagroso" y de las bases sociales del culto a la Virgen de la Soledad de Oaxaca, una de las devociones regionales más arraigadas desde el siglo XVII hasta nuestros días. Motivo por el cual en esta presentación se realizará un acercamiento a los distintos instrumentos como grabados, manuscritos e impresos que se utilizaron durante el primer cuarto del siglo XVIII, para lograr que este culto mariano rebasara los límites de la ciudad de Antequera del Valle, hoy Oaxaca de Juárez, y alcanzara una difusión regional.
Isabel M. Povea Moreno (Instituto de Investigaciones Históricas, Universidad Autónoma de Baja California, John Carter Brown Library Associates Fellow) presents "Impacto socio-ambiental de la minería en Hispanoamérica, siglo XVIII." El sector minero americano alcanzó una importancia crucial por su estrecha relación con las finanzas de la monarquía hispánica. Hoy día, a pesar de contar con una destacada producción historiográfica sobre la actividad minera americana, siguen siendo pocas las páginas escritas relativas a las relaciones entre esa actividad productiva y los efectos sobre su entorno natural y humano. En esta presentación, se expondrá la relación existente entre la actividad minera-metalúrgica y las numerosas afecciones y los riesgos laborales para la población ocupada en esas tareas, así como los efectos ecológicos de los procesos productivos mineros en la América hispana, especialmente en los centros mineros andinos y novohispanos.