Viewing Topography Across the Globe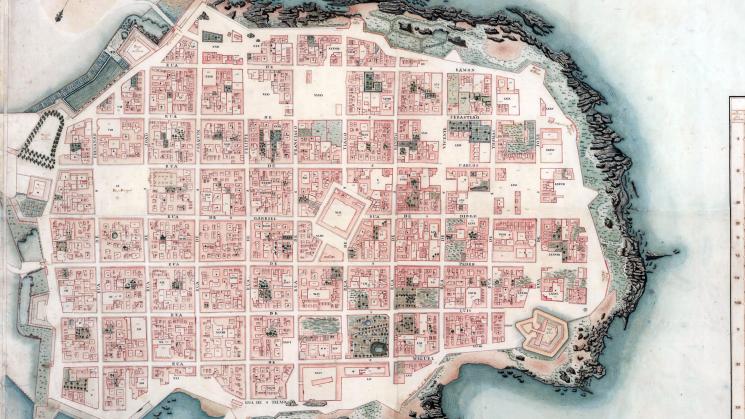 Please join us for a day-long workshop to consider approaches to place from Indigenous and European perspectives and interrogate the frame of 'topography' in global contexts.
Session 1: 10am-1pm, John Carter Brown Library
Renaissance Cartography and the Mapping of Environmental Crisis at Viceregal Mexico City
John F. López | University of California, Davis

The Languages of Gujarati Maps
Samira Sheikh | Vanderbilt University

Mapping Cosmopolitanisms: An Eighteenth-Century
Printed Ottoman Atlas and the Turn to Baroque
Ünver Rustem | Johns Hopkins University

Viewing Urban Cartographies mini-exhibition
Bertie Mandelblatt | John Carter Brown Library
Session 2: 2-4pm, John Hay Library
"Viewing the Minassian Collection" with Shahzad Bashir, Aga Khan Professor of Islam and the Humanities, and Holly Shaffer, Assistant Professor of History of Art & Architecture, and graduate students in HMAN 200R: Tracing Translations

"Viewing the Anne S. K. Brown Military Collection" with Peter Harrington, Curator of the Military Collection, John Hay Library
Please RSVP here to attend.

Organized by Holly Shaffer (History of Art & Architecture, Brown University), Cynthia Roman (The Lewis Walpole Library, Yale University), Neil Safier (The John Carter Brown Library, Brown University), and Shahzad Bashir (Religious Studies, Brown University). This workshop is sponsored by the Cogut Institute for the Humanities, the John Carter Brown Library, and the Lewis Walpole Library; it is part of the programming for the Collaborative Humanities course, Tracing Translations: Artistic Migrations and Reinventions in the Early Modern World, and is part of a series on topography organized by the Lewis Walpole Library at Yale University.
Media