Creative use of the Collection
Artistic and creative inquiries into the JCB's collection capture diverse themes through various mediums. The Library has committed to converting its entire collection into digital format and to making its collection freely available worldwide. High resolution images from the Library's archive of early American images, map collection, and political cartoon collection are available through the Library's digital collections, and the collection is available to artists of any medium for in-person consultation.
The Library is developing an artistic residency program that would support established or emerging artists who work in any medium and whose work connects to the early history of the Americas, the JCB's collection, or current Library initiatives. The artist-in-residency program will allow artists to have physical access to the JCB's collection of rare books, maps and prints and to work within a community of researchers for a short-term period. Please check this page for more details.
To view the digital collections, open access policy, and instructions for downloading images, click here.
Who is using the JCB's collection for a creative practice?
Jazzmen Lee-Johnson is a visual artist, scholar, composer, and curator. Her practice centers on the interplay of animation, printmaking, music, and dance, informed by a yearning to understand how our current circumstance is tethered to the trauma of the past. Through her visual, sonic, and movement investigations across time and technology she disrupts and asserts ideas of history, body, liberation, and otherness. She received her BFA in Film, Animation, and Video at RISD, her MA in Public Humanities at Brown University, and a heavy dose of education working with youth in Baltimore, South Africa, and New York City. She has curated exhibitions at the Chinese University of Hong Kong; Artist Proof Studio and the ABSA Art Gallery in Johannesburg, South Africa; RISD Museum; and Brown University Center for the Study of Slavery and Justice, where she was also a Public History of Slavery Fellow. She is currently a music mentor to teens at New Urban Arts and the inaugural Artist in Residence at the Rhode Island Department of Health utilizing the arts to confront health disparities and shape health equity. She is the 2020 Artist Fellow at the RISD Museum, creating work in response to the collection. She is always eager to radically reimagine the possibilities of the present by disturbing fixed notions of the past, and conjuring a future that might come to be.
View more of Jazz's work at jazzmenleejohnson.com.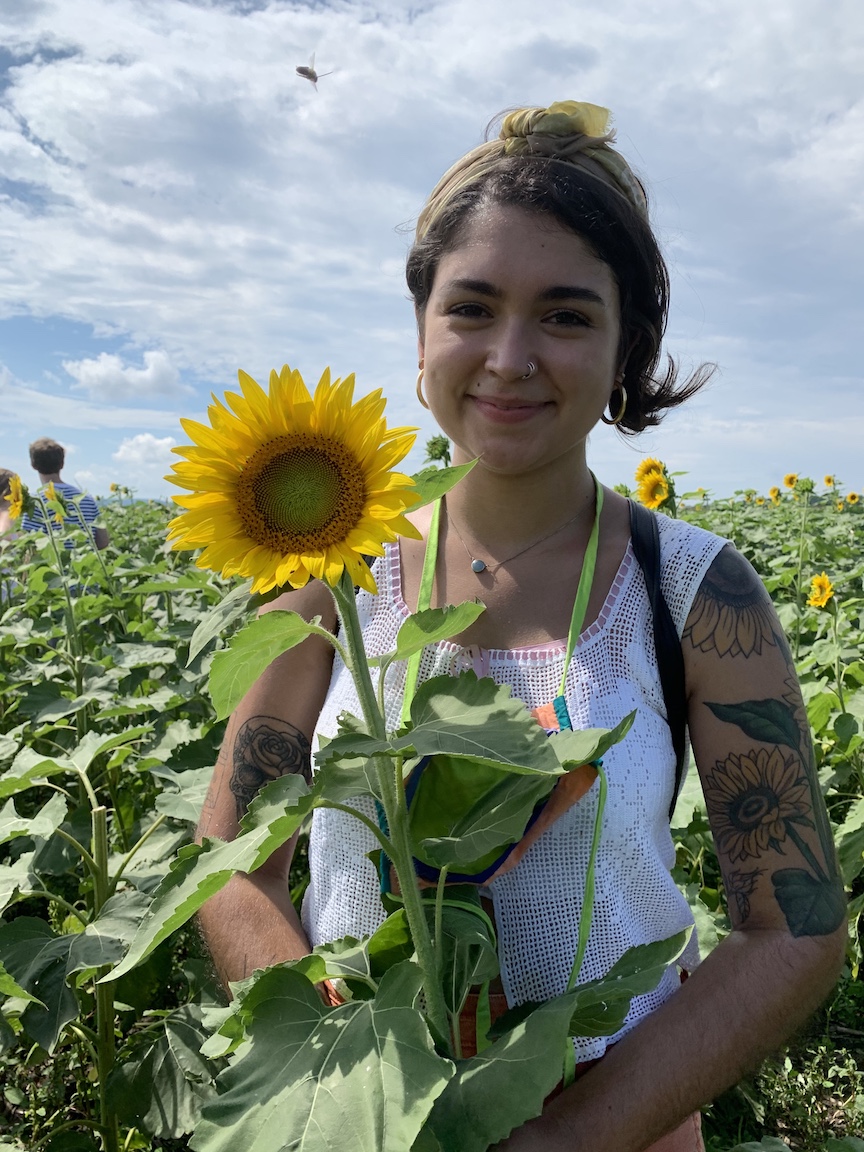 Kat Chávez is a multidisciplinary artist, educator, and curator. Raised on Tongva and Chumash land (known widely as Los Angeles, California), Kat often works in mediums of printmaking and textiles, occasionally combining mediums to create installations. Kat's teaching practice began at Self Help Graphics and Art, where she spent a summer supporting teaching artists during their summer youth arts program. Since then, she has worked at the Massachusetts Museum of Contemporary Art (Mass MoCA), the Rhode Island School of Design (RISD) Museum, the Whitney Museum of American Art, and the Brooklyn Museum, supporting curators and teaching visitors of all ages (working predominantly with teen audiences). Kat also co-curates the ongoing performance and visual arts series series Se Aculilló? with Benjamin Lundberg Torres Sánchez. Kat's work has been exhibited at the Museum of Latin American Art, Long Beach, CA; the San Luis Obispo Museum of Art, San Luis Obispo, CA; New Women Space, Brooklyn, NY; AS220's Resident Gallery, Providence, RI; the List Art Center, Providence, RI; and the David Winton Bell Gallery, Providence, RI. She currently works as the Public Programs Assistant at the Harvard Graduate School of Design and lives in Brooklyn, NY.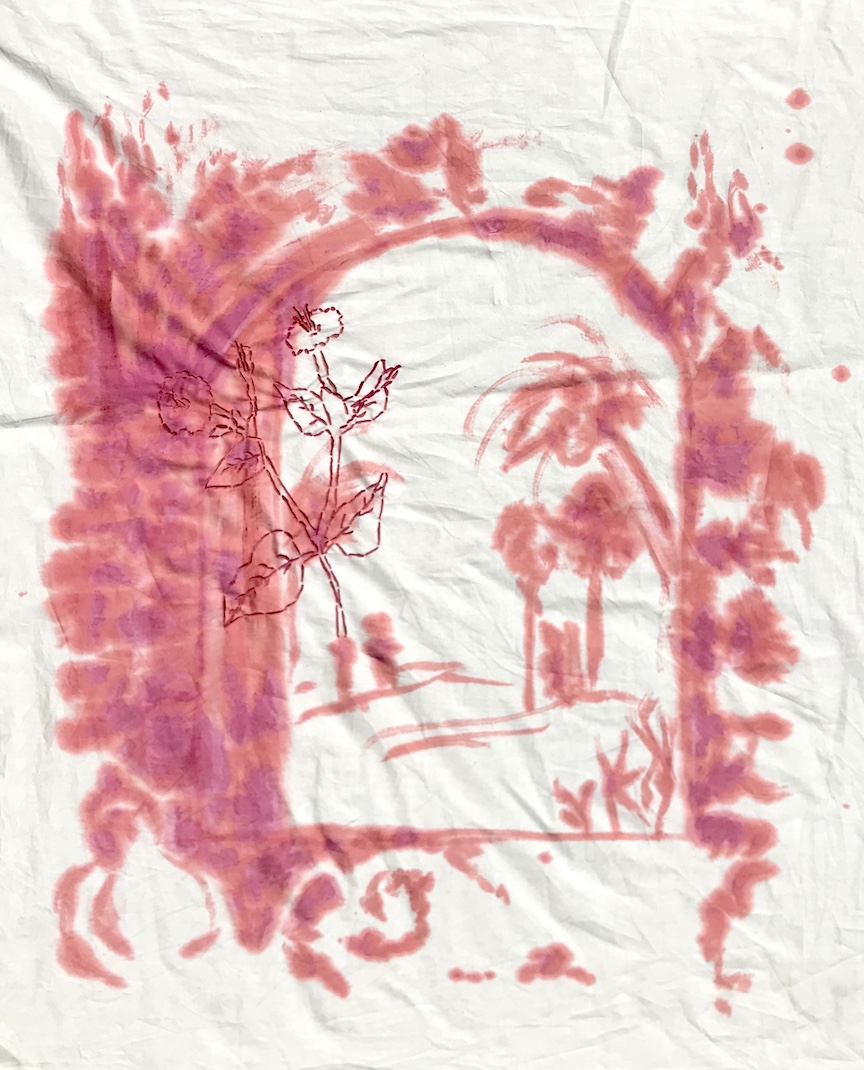 About Kat's work: "For this piece, titled Mirabilis jalapa for the name of the plant referenced in the embroidery, I cite botanical artist Maria Sibylla Merian. I was working in California at the time, so I used the digital archive of the John Carter Brown Library to look through a book of plants from Suriname that she illustrated. The title page of that book has an illustrated image of Merian working on the drawings, and out the window behind her you can see laborers working the land. It captures this moment of slight visibility of the labor behind harvesting the natural environment, and the exploitation of Black and Indigenous Peoples in the Americas who did that labor.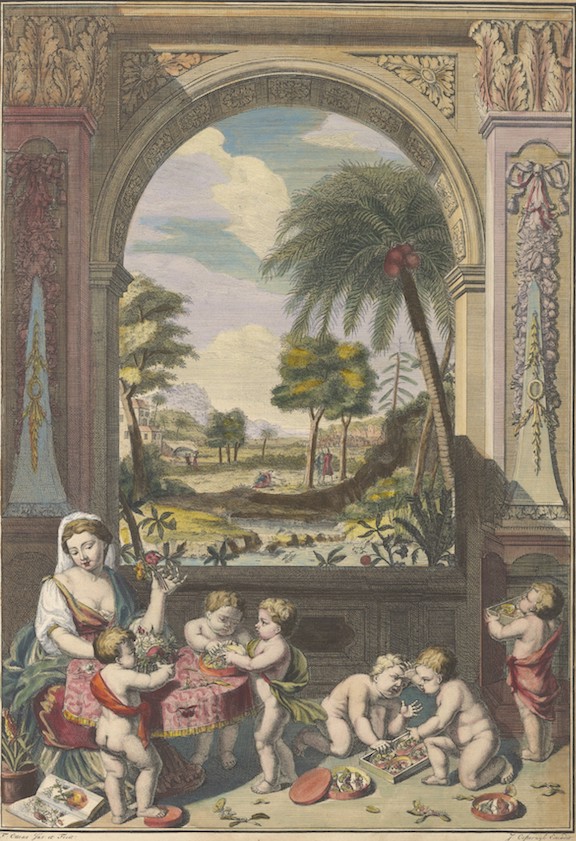 I vaguely evoked that image, as well as labor and material through my use of cochineal to dye the muslin and yarn. This piece is actually one of three in a series, and in each work I reference a different plant that is native to the Americas."
View more of Kat's work at katchavez.com.