Access Means Discovery: The JCB's "Lost" Portrait of Simon Bolivar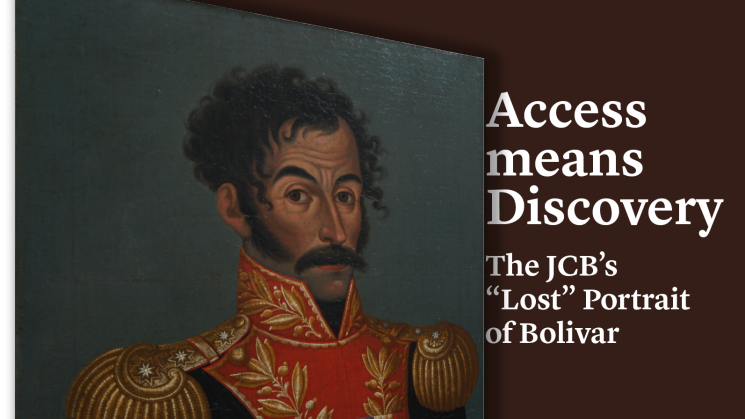 In libraries, we assume that discovery and access are linked; if you make more materials discoverable via cataloging, for example, they are more accessible. In our case, creating more accessibility has led directly to ongoing, important discoveries about our collections.
In the course of cataloging and digitizing our collection of Bolivariana for the new virtual exhibit from Maury Bromsen's gift and the original 2000 exhibit, we discovered that an iconic item is perhaps even more important than we—or Mr. Bromsen—knew.
As Pedro Germano Leal, the JCB's Associate Director for Digital Asset Management, was preparing the virtual exhibit he began to explore our most famous portrait of Bolívar. In the JCB's bibliographic record, it is identified as an anonymous copy of a portrait by the Peruvian painter José Gil de Castro, produced after December of 1823. Gil de Castro painted many Bolivar portraits that are now in museums around the world.
It has been long believed by the specialized literature that de Castro's portraits were based on a "lost painting" by the Colombian painter Pedro José Figueroa, who painted another portrait of Bolívar, around 1821. After examining the JCB's painting in detail, and consulting other experts, Dr. Leal is persuaded it is the source of Gil de Castro's portraits, the "lost" painting by Pedro José Figueroa. We will share here further research, and news of a publication to follow.

Visit the Virtual Experience