Board of Governors honors María Isabel Grañén Porrúa with prestigious JCB medal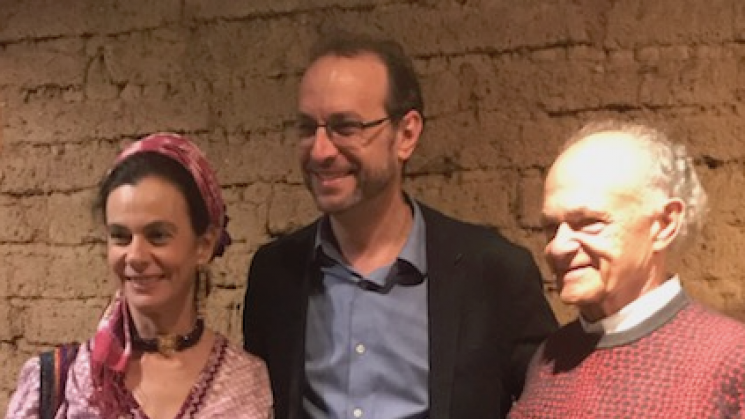 At its February meeting in Los Angeles, the Board of Governors of the John Carter Brown Library voted unanimously to award the 2020 JCB Medal to María Isabel Grañén Porrúa, in recognition of her extraordinary scholarship, leadership of cultural institutions supporting archives and libraries, and role in valorizing community knowledge in her native Mexico and beyond. The JCB medal was conceived in anticipation of the sesquicentennial (150-year anniversary) of the founding of the John Carter Brown Library celebrated in 1996. At that time, the Board of Governors authorized the striking of a bronze medal, sculpted by the Providence artist Alba Corrado, in honor of this important moment. The medal is awarded from time to time at the discretion of the Board, and it is intended to recognize distinguished service to the Library, a long association with the JCB, or exceptional research in one of the fields represented by the collection.
With a doctoral degree in art history from the University of Sevilla, María Isabel Grañén Porrúa is an accomplished scholar of colonial Mexican history and, more specifically, the history of the book in the colonial world. Her publications include works related to the labor history of sixteenth-century Mexican printing houses, engravings and illustrations in the works of Mexico's first printers, and other fascinating topics such as Mexican Tarot cards and the history of Oaxaca's notarial archives. She came to the JCB in 1994 with the support of the Maria Elena Cassiet Travel Fund for scholars from Latin America and conducted individual research on the books of Mexican printer Juan Pablos, eventually published as Los grabados en la obra de Juan Pablos: primer impresor de la Nueva España, 1539-1560 (Mexico: Fondo de Cultura Económica, 2010). She is president of ADABI (Apoyo al Desarrollo de Archivos y Bibliotecas de México), current president of the Alfredo Harp Helu Oaxaca Foundation, and director of the Biblioteca Francisco de Burgoa, one of the most important collections of rare books in Mexico and a peer to the JCB's collection. In 2012, she received an important "homage to bibliophiles" at the International Book Fair in Guadalajara and was more recently made an honorary associate of Mexico's National Historical and Cultural Memory Commission, under the auspices of the President of Mexico.
Previous recipients of the JCB Medal include: David Beers Quinn (1996); Felipe Fernándo-Armesto (1999); José Amor y Vásquez (2002); Norman Fiering (2006); Thomas R. Adams (2008); and Gordon Wood (2011).
A ceremony and special lecture program will be organized in the fall to recognize Dr. Grañén Porrúa's contributions to special collection libraries, national historical memory, and the history of the book in colonial Mexico, as part of the JCB's ongoing commemoration of five hundred years since the tumultuous events that brought modern Mexico into being.