JCB Kicks off 2020-21 Academic Programming with an Introduction to its Collection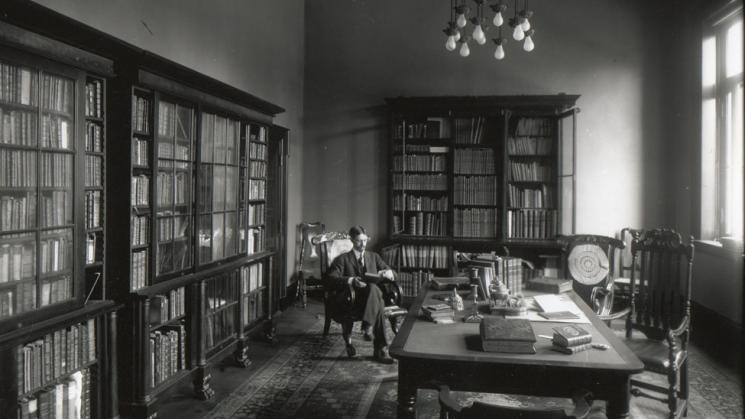 As an opening event to kick off the Library's fall programming, members of the curatorial staff will join Director and Librarian Neil Safier for a whirlwind introduction to the renowned "Americana" collection of John Carter Brown, begun in 1846 and housed since 1901 in a stately neoclassical building on Brown University's Main Green. This year, the Library continues its decades-old tradition of bringing together scholars, students, and the general public in a series of academic programs designed to remind us of the relevance of our collective past to the world we live in.
"Few faculty members – and even fewer students – know what lies beyond the carved wooden doors of the JCB," said Safier. "In this virtual moment, we are taking advantage of the increased access – to students and other publics – to provide an insight into our collection, through events and activities that shed light on our materials."
For this first event, which is a brief introduction to the collection, curators Domingo Ledezma (European Books), Bertie Mandelblatt (Maps and Prints), and José Montelongo (Latin American Books) will each present a single, recently acquired item and explain how it fits into the larger collection. The session will begin with a brief history and overview of the collection as a whole, recounted by Safier.
Later events and activities this fall will include:
• Major lectures (online) by Marina Garone (on indigenous Mexican print culture, in Spanish, on October 27); Margaret Schotte (on maritime history associated with an exhibition on Dutch atlases, currently scheduled for mid-November); and Manuel Barcia (on yellow fever and the slave trade, in early December).
• Special presentations related to our forthcoming exhibition "Constellations", with an Opening Roundtable on October 30 with Simon Schaffer (University of Cambridge) and Thomas Haddad and Nydia Pineda, co-curators, moderated by Neil Safier
• And an end-of-the-year virtual Holiday Party with Richard Ring (Deputy Executive Director for Collections and Interpretation at the Rhode Island Historical Society), who will speak about former JCB Librarian Lawrence C. Wroth and his interest in printed Indian treaties as an early form of American literature. Date TBD.
Please see our events page for a listing of all upcoming events.
While we regret not celebrating these events with you in person, we look forward to seeing you virtually at these and other events throughout the year!
Links