"Their Marks": Building an Archive of Native History in the Northeastern Woodlands through Images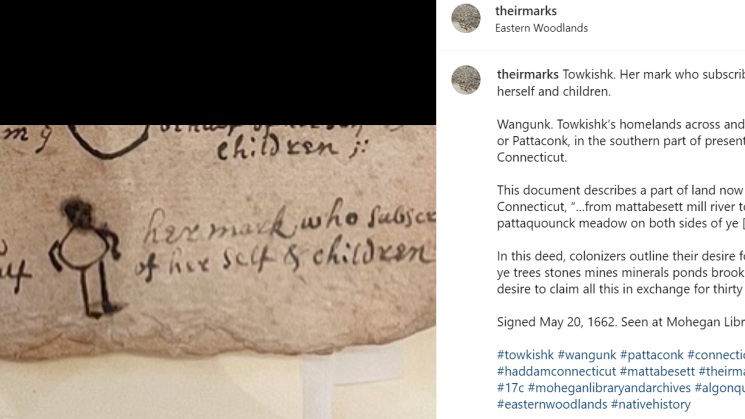 In addition to her role as Coordinating Curator for Native American and Indigenous Materials, Kimberly Toney created and maintains the Instagram account "Their Marks." Roughly every week since December 21, 2022, she  has published a post featuring a pictograph entered in place of an alphabetic signature by a member of a community that lived in the Northeastern Woodlands.
The project began when Kim became aware of a deed signed by Pometacom, also known as King Philip, in 1668 and a document signed by Canonicus in 1642, both of which are housed in the collection of the JCB. Since then, she has searched through land deeds, petitions, and other documents from the 17th century signed by Native peoples at various other libraries and archives in the region.
Toney explains that the implications of the practice are important. First, the use of pictographs suggests that members of Indigenous communities were signing documents that they likely could not read themselves, and therefore had to rely on a Native or non-Native interpreter to understand the agreement they were making. Second, the pictographs and other symbols used by signers often speak to individual or community's identities, values, and belief systems.
Each post in "Their Marks" includes an image of the mark as entered on the 17th century document; a short biography of the person who left the mark, including the names of any known kin; the native place names mentioned and contents of the document when they appear; and the location where Kim encountered the document. She often includes a language or interpretation exercise around the mark or picotgraph that features a question box, encouraging the account's followers, most of them members of Indigenous communities in the Northeast, to share what the mark looks like to them.
We invite our readers to explore "Their Marks" on Instagram and to contribute to this archive. Community contributions are welcome, and the resource is growing!