Mount Vernon symposium: Mapping the American Revolution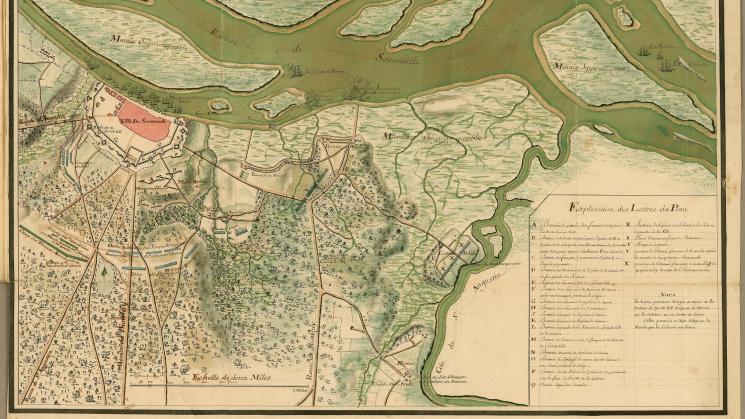 On November 4-5, I participated in Mount Vernon's annual George Washington seminar whose theme this year was "Mapping the American Revolution." The symposium was the showcase for a series of exciting papers that showed the direction of current map history scholarship: a paper on the question of maps and copyright in the eighteenth century by Nora Slonimsky, two papers (by Jeffers Lennox and Eliga Gould) that pointed to the ways Canada's territorial proximity to the United States complicated and was complicated by the mapping of the border between them in the revolutionary period, another by John Crowley on the tensions between hydrography and topography in the Atlantic Neptune, and a keynote lecture by Max Edelson on the power of the surveyor's vision in the British military mapping of the American Revolution.
The symposium was also the opportunity to celebrate two significant events in the world of early American mapping: first, it was the public launch of the digital humanities project ARGO, the American Revolutionary Geographies Online, a partnership between Mount Vernon and the Norman B. Leventhal Map and Education Center at the Boston Public Library, a project to which the JCB is an enthusiastic collaborator. The symposium was also the moment to celebrate the arrival of Richard H. Brown's Revolutionary War Map Collection at Mount Vernon, and the Mount Vernon Special Collections organized a wonderful exhibition of highlights from this collection that Richard was on hand to discuss.
My own paper for the symposium addressed one of the maps that will feature in ARGO, a treasure from the JCB collections – the manuscript "Plan of the Siege of Savannah" that accompanies the manuscript journal of the 1779 siege of Savannah that was composed by the Comte d'Estaing, the French general who led the joint French-American forces who besieged the city, and his military engineer, Antoine François Térence O'Connor. The map was probably copied from the original map drawn by Pierre Ozanne, the naval artist formally attached to d'Estaing's fleet, and, I argue, it unites in cartographic form the military, imperial and intellectual ambitions of the three great Atlantic Revolutions of the late eighteenth century (American, French and Haitian).
In advance of 2026, the Mount Vernon symposium was a wonderful opportunity to begin thinking through the pivotal roles maps and mapping played in the events of the American Revolution.
You can close the 'media information' panel and zoom in to see the map in full.