Researching the Slave Trade in the JCB Collections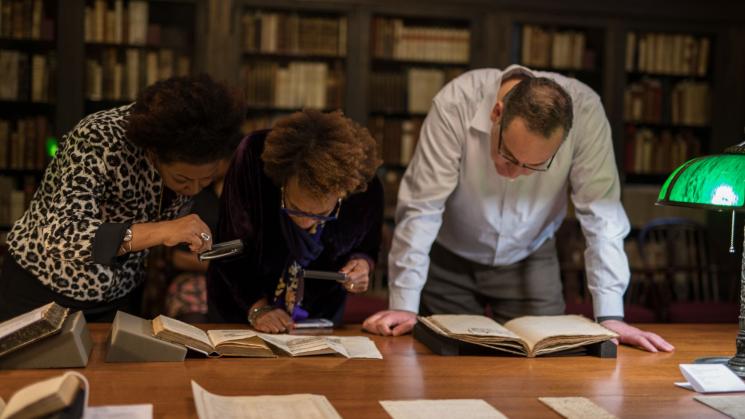 From his earliest purchases, John Carter Brown incorporated materials on slavery and the slave trade into his Americana library. The JCB's collection hosts many rare materials that speak to the history and legacy of slavery. Researchers seeking records of the slave trade often consult our business papers, logbooks, and plantation maps. Beyond our collection of materials, the JCB fosters collaborative scholarship.
In February 2018, the JCB hosted 12 scholars – invited by the Center for the Study of Slavery and Justice for workshops leading to the production of a documentary series on the Atlantic slave trade – to explore JCB materials that testify to the history of slavery in the Americas. JCB Director Neil Safier led a show-and-tell of items from the collection, selected with the assistance of Research and Reference Librarian Kim Nusco. Scholars examined rare materials including a map of western Africa showing the Guinea coast and the location of tribes, kingdoms, and settlements and a 1784 Prices Current from the Arnold family business papers. Other items included the Traité général du commerce de l'Amérique, a trade manual by an "obscure customs officer, Auguste Chambon" that was written to promote colonial commerce in the French Atlantic; the account book of the Brigantine Sally; and a scrapbook produced by the The Female Society for the Relief of British Negro Slaves, which contains anti-slavery pamphlets and engraved illustrations of abolitionist imagery.