A Snapshot of Cartographic Collaboration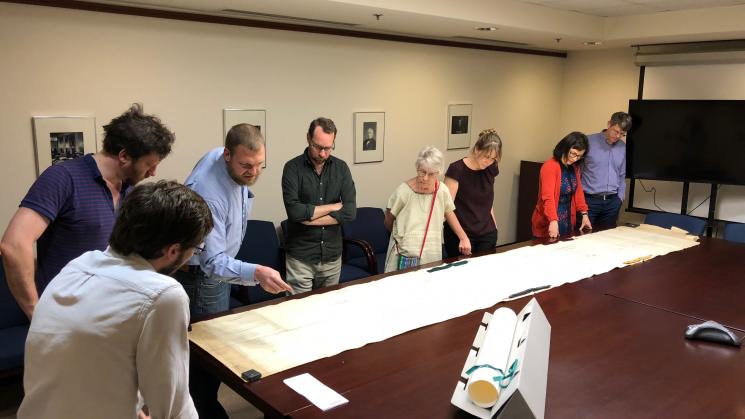 In May 2018, JCB fellow Matthew Nielsen led a collaboration session with JCB staff and fellows around an incredible oversized map of the Orinoco River that extends to over fourteen feet in length when fully unrolled. This manuscript chart was produced between 1802 and 1803 by Alexander Briarly, a lieutenant in the British Navy, while serving as a contraband patroller based out of Trinidad. He seems to have prepared this chart for ship pilots who needed to study the Orinoco before attempting to navigate it.
The abnormally large dimensions of the map proved to be an exciting challenge for the JCB's digitization team, which had never attempted to photograph a map of this size. The fully digitized map, comprised of over ten separate images taken with a state-of-the-art 80 megapixel camera and seamlessly stitched together in Photoshop, is now available online. No matter how large and unwieldy the item may be, the JCB finds innovative solutions to unique digitization challenges and works closely with fellows to identify collection material in need of digitization.